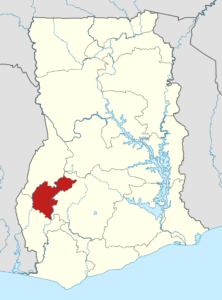 The Ahafo Region is a newly created Region in Ghana with Goaso as its capital. The Ahafo region is bordered on the north by Bono region, the east by Ashanti region, west by Bono region, south by the Western North region and it is made up of seven districts. The Ahafo region is part of the forest belt of Ghana and has vegetation that consists predominantly of fertile soil, grassland, especially savannah with clusters of drought-resistant trees such as baobabs or acacias.
TOURIST SITES
The Ahafo region is also noted for amazing tourist sites such as Mim Buo at Mim and Asumura White-Necked Rock fowl Conservation.
Asumura White-Necked Rock Fowl Conservation
Asumura White-Necked Rock Fowl Conservation located in the forests of Asumura near Akrodie in the Ahafo Region, is the home of very rare species of colored birds that are considered as one of Africa's most desirable birds by birders. The white-necked rock fowl is lanky with a long neck and tail. It only hops and has its mud-built nest built beneath giant hanging rocks.
FESTIVALS
Adekyem Festival
Celebrated by the Bechem people in the month of November. Bechem was formally called 'Abekyease' came into existence after Nana Tutu I and his victorious war leaders sat to share their booty or spoils of wars at Abekyese. History has it that the chiefs said, "We shall divide our booty here" (Yebekye mu wo ha), hence the name Bechem. After the Gyaman war with Abo Kofi, the war booty was shared at Bechem and has been called so to date.
Adekyem festival which is an initiative of Nana Fosu Gyeabour Akoto II and Nananom is a development festival through quality and holistic education to replace the ancient area development through wars. During this festival, the chiefs receive donations and gifts to develop education in the area.
REGIONAL ATTRACTIONS
Mim Buo – Mim
Asumura White-Necked Rock Fowl Conversation – Asumura – Akrodie